Our Mission
Tickets for Kids® Charities is dedicated to enriching the lives of low-income and at-risk children and families by including them in a variety of activities and events that are sources of learning, encouragement and inspiration. TFK facilitates equitable access to the world of ideas, accomplishment, creativity and culture by being the partnering link between ticket providers and social service agencies. Through this intricate network of partnership, TFK contributes to the growth and well-being of both the children served and the community at large.
Can you imagine a childhood without the chance to see a circus, a museum, a ballgame, or a play?
For many kids, this is their reality. With approximately one in five children in the United States living below the federal poverty level (U.S. Census, 2013), experiencing enriching cultural and recreational activities is challenging for some and impossible for many.
Here at Tickets for Kids, we believe that every child should have the chance to see the acrobats of Cirque du Soleil, dig for fossils in a natural history museum, catch a foul ball, or hear the music of a live musical. For the children we serve, these opportunities are more than just a ticket. They're a chance to experience something that could inspire goals and dreams for the future.
Our History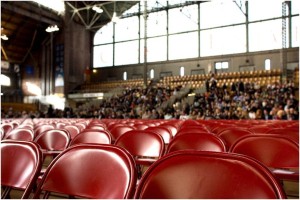 Many years ago, when our founders took their own kids to concerts, ballgames, and plays, the empty seats around them sparked an idea: couldn't those seats be given to kids in need?
In 1994, Tickets for Kids Charities was founded, and what started as a small, grass-roots operation has grown into a national nonprofit [501(C)(3)], which distributes tickets to low-income and at-risk kids and families all across the United States.
Our Impact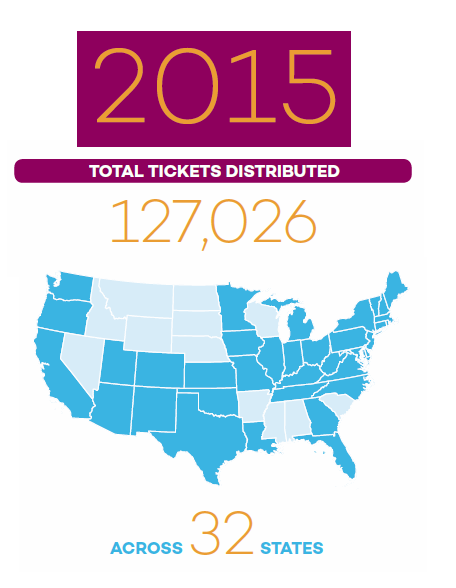 With a new technology platform and more donor and agency partnerships than ever before, we have grown immensely. Since 1994, we have distributed 1.9 million tickets valued at more than $42 million. That's 1.9 million chances to dream big!
We get thousands of pictures and thank you letters every year. Our favorites show how special it is for kids to spend time with their family or a mentor, experience something new, or have the best day ever.
"Being picked to go to the game made me feel special inside." – Pittsburgh Penguins Hockey Game
"I'm so excited I feel like I'm about to explode! This is the best day ever!" – LEGO KidsFest
"It was a great opportunity to discuss not giving up with my mentee." – Learning to Skate at PPG Ice Rink
"If I had ten thousand tongues I couldn't thank you enough for what these tickets did for a group of people, short of saying a miracle. Their demeanor and attitudes have totally changed since the performance, they appear to be hopeful about their outcome." – Cirque du Soleil